Food & Drinks
What are we eating today? Rhubarb crumble with pistachio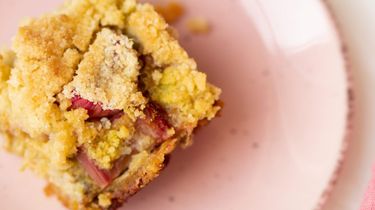 This rhubarb crumble with pistachio has everything. A crunchy biscuit base, a creamy pistachio cream, tart rhubarb and buttery crumbs to finish off the party. You want to make this!
Ingredients
For about 9 pieces:
For the bottom:
120 grams of flour
50 grams of sugar
110 grams of cold, unsalted butter, cubed
Pinch of salt
For the topping:
400 grams of rhubarb, cut into pieces
110 grams of pistachios
1 1/2 tablespoon of flour
75 grams of sugar
65 grams of butter in cubes
1 egg
1 tablespoon of orange zest
1 tablespoon of orange juice
1 teaspoon of vanilla extract
Pinch of salt
For the crumble:
120 grams of flour
80 grams of sugar
pinch of salt
75 grams of cold unsalted butter in cubes
The fantastic thing about this rhubarb crumble is also that it is not that sweet. Rhubarb naturally has all that fresh and sour taste, which can be found under the heading "you love it or you hate itFalls. If your guests don't like the crumble sweet enough, sprinkle it with some icing sugar.
Baking rhubarb crumble
Preheat the oven to 180 degrees. Prepare a square baking tin or baking dish with a diameter of 20 cm and cover with baking paper.
Mix the flour, salt and sugar for the bottom in a food processor. Add the cubes of butter and run until large lumps form in the machine.
Press the dough over the baking sheet, until it is even. Bake in the oven for 15 minutes, until golden brown. Allow to cool as far as possible (put in the fridge if necessary). Keep the oven on.
Meanwhile, prepare the pistachio cream in the food processor. Add the pistachios, flour, salt and sugar and grind to a fine powder. Add the butter and run until blended. Sniff the blissful scent and then add the egg and vanilla extract and mix until smooth.
Spread the pistachio cream over the baked base with a spatula.
Mix the rhubarb with the orange zest and juice and spread over the pistachio cream.
Make the crumbs by mixing the flour with the sugar and a pinch of salt in a bowl. Knead the cubes of cold butter with your fingertips until you have coarse crumbs. Spread them over the rhubarb.
Put the rhubarb crumble in the oven for 50 minutes, until it is golden brown and done. Test with a skewer whether the bottom is well cooked.
If the topping on top becomes very dark, cover the cake with aluminum foil during baking.
Let cool completely first. Then cut into pieces and serve.
Also read: What are we eating today? Lamb meatballs with labneh, pomegranate and mint
NewsABC.net