Cars
When do I have to put on winter tires?
When should you put on winter tires and when are winter tires mandatory? These two questions can only be answered individually, because there is no fixed period in Germany in which winter tires are generally compulsory. The legislator only prescribes winter tires for wintry road conditions such as slippery roads, snow, slush or ice ("situational winter tire obligation"). Theoretically, you could also drive with summer tires in winter. However, this is not a good idea for practical reasons. Because if you are surprised by the onset of winter, the tire change can usually no longer be carried out immediately – at least not in the workshop. In addition, summer tires can pose a safety risk at low temperatures.

When will winter tires start? Rule of thumb says "from O to O"!

A rule of thumb, which is also recommended by tire manufacturers, is "from O to O" – from October to Easter is the right time for winter tires. However, it is more accurate to go by the temperature. If it falls below seven degrees continuously over the course of the day, it's time for winter tires.
The past few years have shown that in many regions of Germany, the average temperature in the first few weeks of October is often over ten degrees Celsius – actually still too warm for winter tires. Because they only perform optimally at temperatures of seven degrees and less.
Driving with winter tires in warmer temperatures increases fuel consumption and can have a negative impact on the car's handling.
That's why you should generally avoid winter tires in summer.
Nevertheless, the rule of thumb "From O to O" is a good guide. Because by the beginning of October at the latest, you should try to make an appointment in the workshop – unless the wheels are exchanged on your own. As soon as the temperatures drop, the appointment books fill up quickly. At the latest when the road conditions become wintry, you should no longer be driving without winter tires. Summer tires then have significantly less grip and longer braking distances. (You can find our big winter tire test with over 50 tires here!)
60 euros fine plus one point in Flensburg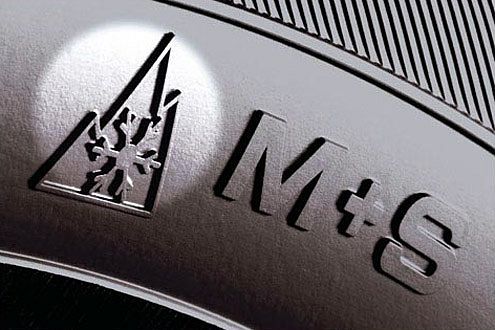 In addition, driving with summer tires in "winter conditions" is prohibited. The Road Traffic Act (StVO) defines these weather conditions as follows: "The driver of a motor vehicle may only drive on black ice, snow, slush, ice or frost if all wheels are fitted with tires that … meet the requirements of Section 36 Paragraph 4 of the Road Traffic Licensing Regulations (StVZO)" (StVO § 2, Paragraph 3a). Anyone who is caught with summer tires in winter weather not only endangers himself and others, but also risks a fine. The fine is at least 60 euros plus one point in Flensburg.
FAQ winter tires
Are winter tires generally compulsory in Germany?


There is no general winter tire obligation – but a "situational winter tire obligation". Whether winter tires are mandatory depends on the weather. If you drive with the wrong tires on black ice, snow, slush, ice or frost, you risk a fine.

How do I recognize a winter tire?


There are two symbols that identify a winter tire: the M+S logo (stands for mud and snow) and the Alpine symbol (mountain with a snowflake). The snowflake symbol is mandatory for winter and all-weather tires produced since January 1, 2018. A transition phase for older winter tires applies until September 2024.
Why winter tires at all?


The rubber compound specially developed for use in winter remains flexible even at low temperatures, while at the same time numerous, specially designed lamellas create attack edges. This means that the tires can better grip snow and mud, have particularly good traction, a shorter braking distance and thus offer more safety. Wide, circumferential drainage grooves in the tread channel water and slush off particularly well, thus promoting intensive ground contact in the contact areas.
Are there insurance problems in the event of an accident with the wrong tires?


According to the ADAC, in the event of gross negligence, the driver may be jointly liable if the damage is settled with the other party's liability insurance. In addition, one must reckon with significant reductions in the benefits of comprehensive insurance.
When do additional snow chains need to be fitted?


Winter tires also reach their performance limits in deep snow. So when it comes to skiing at the alpine hut, snow chains should not be forgotten. Snow chains are mandatory in some ski areas, and this is indicated by road signs.
How fast can you drive with winter tires?


As with summer tyres, there is also a speed index for winter tyres. The key number for this is the tire size: Q means a maximum of 160 km/h, T – 190 km/h, H – 210 km/h and V – 240 km/h. And don't forget: The physics of driving are not overridden by winter tires – of course you can never drive as fast on snow as the tires allow on dry roads.
How much tread depth must a winter tire have at least?


Only 1.6 mm is required for summer and winter tires. That is far too little. AUTO BILD tester Dierk Möller-Sonntag: "If the tire has less than three to four millimeters of profile, it should be replaced." Driving and braking behavior on snow and in the wet is no longer safe enough from this tread depth.
How do I find out what tire size to buy?


It's in the papers. In the old vehicle registration document you will find the tire specifications under numbers 20, 21, 22 and 23. If you registered or re-registered your car after October 1, 2005, you will find the numbers in Part I of the registration certificate under 15.1 to 15.3. However, the new papers no longer contain all the approved sizes; the retailer has this information.
Even if the Winter tires compulsory depends on the weather, it is advisable to change summer tires as soon as the temperatures drop. After all, snow often comes as a surprise overnight – and if the tires haven't been changed then, you'll look into the tube the next morning.