Cars
With AUTO BILD and the new Mazda CX-60 in Lisbon
The design of a car does not only follow its function. It is always the combination of tradition and modernity, of evolving standards and technologies. Mazda has also developed further: With the CX-60, the Japanese are now venturing into the shark tank of the SUV premium segment for the first time. Reason enough for us to take a close look in a joint campaign with Mazda with a CX-60 designer and a reader.
The design highlights of the premium SUV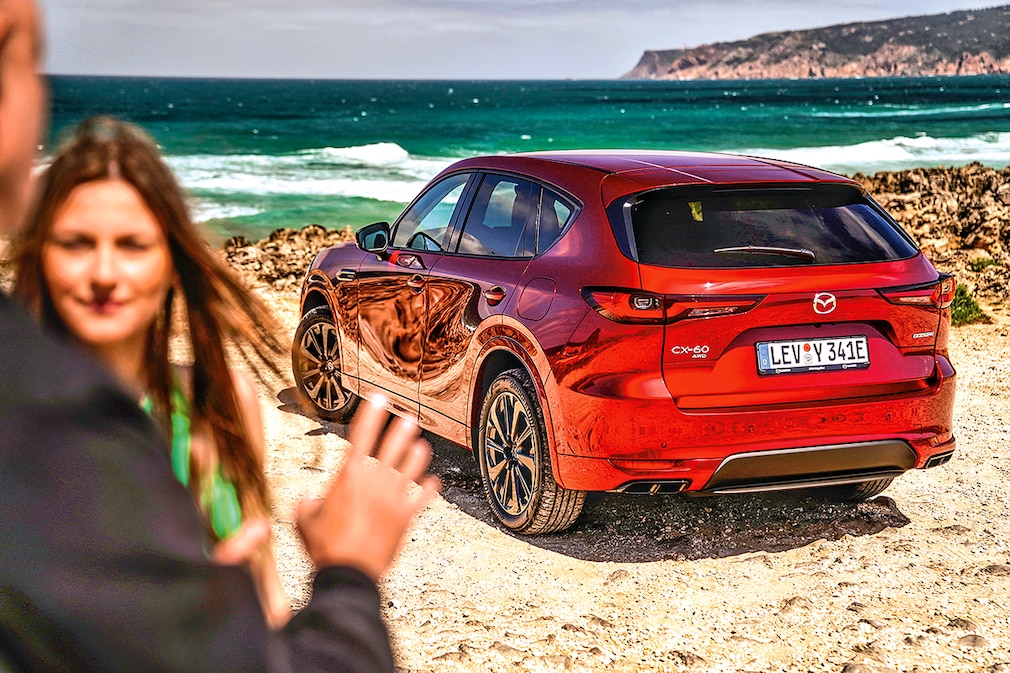 "I'm really excited to see the CX-60 live," says Giolina Güttler. The 21-year-old from Hamburg is studying design and has already dealt a lot with the larger SUV in preparation for our meeting with the designer. But before she becomes personally acquainted with the new Mazda top model on the streets of Portugal, there is first a bit of theory: At an exclusive meeting, designer Jo Stenuit conveys the philosophies behind the completely new development to the likewise prospective designer.
Of course, traditional elements can also be found in the large SUV. The clear and reduced lines of the Kodo design, for example, or the Jinba Ittai philosophy from Ross and Reiter, according to which all elements are arranged in such a way that the driver sits in an optimal position in the vehicle. But there are also new approaches. For example, the philosophy of empty space, which creates an optimal connection to the outside world. The interior has been reduced to the essentials and the controls are optimally positioned so that driving and operating can be as intuitive as possible and with few distractions. This ensures safety and driving pleasure in equal measure.

"Like a predator about to sprint"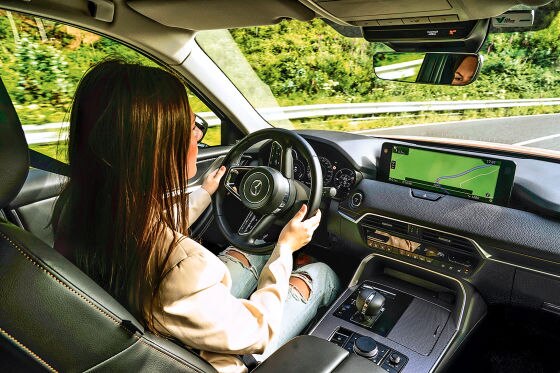 High time to take a look at the CX-60. "Despite his size, he looks much sportier than I thought," says the Hamburg native. And Jo provides the explanation: "Due to the long bonnet and the passenger cell that is set back, you get the impression of a predator just before the sprint." The long front also has a practical use: The CX-60 comes with rear-wheel drive and will also get two in-line six-cylinders in 2023 (3.3-liter Skyactiv-D and 3-liter e-Skyactiv-X, each as a mild hybrid), who need the space in the front end. The test car has the first plug-in hybrid engine installed in Mazda history: the 2.5-liter four-cylinder (191 hp) together with the electric motor (175 hp) has a system output of 327 hp and 500 Nm. Up to 63 kilometers are purely electric.
"Amazing how light-footed such a large car can be moved," said Giolina during her test drive. "Sporty, if you want, but also very comfortable and almost silent in electric mode. Design and technology go hand in hand here."