Cars
With the motorhome on the ferry: Guide
Doing the route instead of getting stuck in traffic jams. Relaxing on the sun deck instead of driving down the tiringly monotonous motorway – such a ferry passage can make the journey to the destination region a stress-free interlude.
And more and more vacationers are getting a taste for it: According to a recent study by the ferry association VFF, 37 percent of those surveyed have booked at least one ferry trip in the last five years. More than half toy with a turn, especially the 18- to 39-year-olds. What attracts many of them: a maritime experience and relaxation on board.
The desire to vacation in a motorhome has also grown in the wake of the corona pandemic, with almost one in seven confirming this, according to the survey conclusion. Where do most ferry travelers go? Scandinavia, Great Britain, the Baltic States and the Mediterranean are among the favourites. In total, there are more than 1000 connections to choose from across Europe, short crossings as well as longer ones, often overnight.
In addition to turning off the gas and emptying the fridge, we explain here what else is important before and during the journey.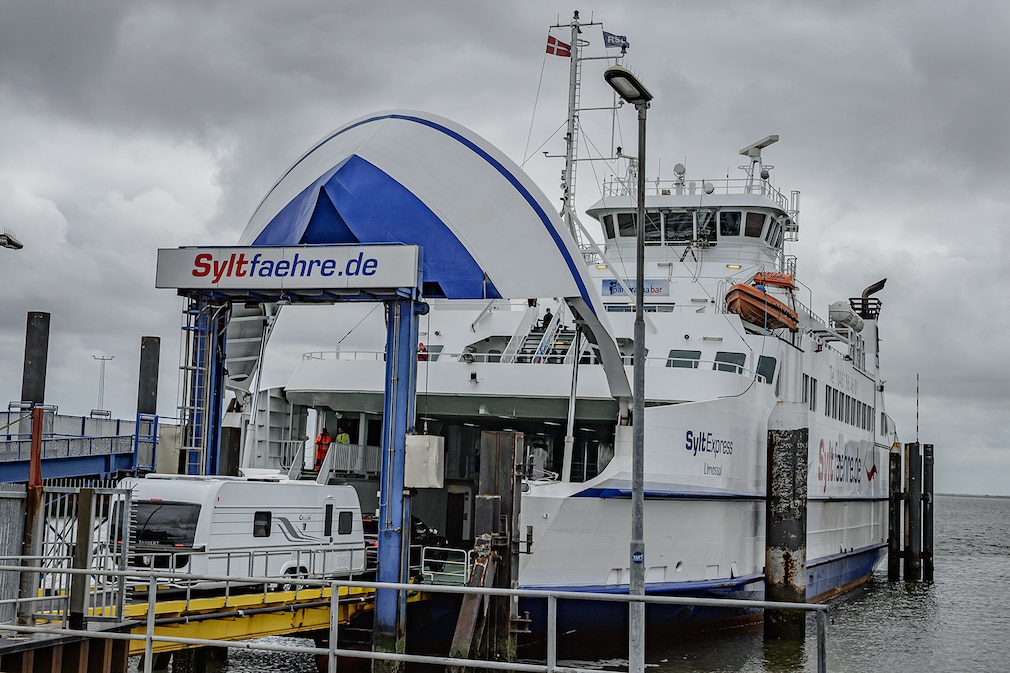 What should novice ferries know?
The early bird catches the worm – this also applies to booking ferry tickets. You can save a lot of money if you book a few months before you travel and also book a return trip. Bargain contingents are quickly exhausted, especially on long passages.
Online comparison portals (see right) provide an overview of prices and availability, and shipping companies and travel agencies also provide information. The prices do not only vary with regard to high and low season, weekdays are also different
Beech. Weekends are usually more expensive. Not an option: last minute at the port. There are no bargains, and when demand is high, you have to wait a long time.
How else can you save?
Car clubs such as ADAC and ACE give members a discount (up to 25 percent). Some shipping companies also offer discounts for seniors, families or children, in the off-season also short-term package deals. When it comes to motorhomes, length matters. Some providers raise the fare significantly from six meters, others from seven meters.
In any case, it is important to measure the vehicle precisely – including all types of mounted objects such as bicycles or luggage boxes. In the event of deviations, there is a risk of a full impact, or you may even be thrown overboard if it gets too narrow. It is best to remove extras before the passage.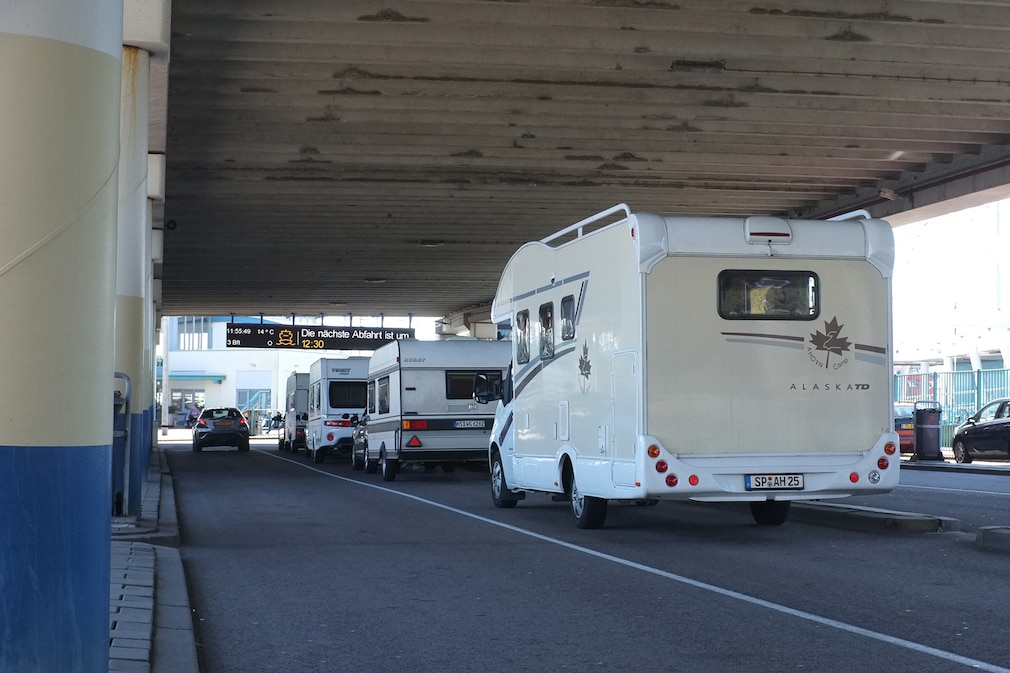 Time is money – does that also apply to the ferry passage?
Only the sea route leads to Iceland or to other islands by motorhome. On other routes – for example to Sweden, Spain or Greece – there is an alternative choice of overland travel. What is cheaper? In most cases, the land route is slightly ahead. However, in addition to fuel costs, you also have to factor in tolls and campsite fees as well as wear and tear. The moon prices at the pump are currently driving costs up. Are increasing ferry tariffs also to be expected?
A forecast is difficult: "I have not yet received any information on fuel surcharges from our member shipping companies," says ferry association spokeswoman Kathrin Schiemann. Unbeatable argument for the ferry: Time saving, which can add up to two days, excluding stressful traffic jams. Since more sustainable travel is also important to many, some lines with LNG gas, hybrid or electric drives score points.
Cabin or armchair? Where should you sleep on the night ferry?
It's a question of money, the route and individual needs, how rested you want to arrive at the port of destination. Day trips are usually cheaper than night trips. On some long ferry trips there is a cabin requirement, for example on the North and Baltic Seas. The selection ranges from the cheapest windowless inside cabin to the outside cabin with a view to the luxury suite. Mediterranean passages usually allow stay on deck. The more fully booked the ship, the more difficult it can be to choose a seat. And depending on the weather, it can also be chilly on deck.
Those who are intrepid can take a seat in their sleeping bag on the sleeping pad they have brought with them. A reserved recliner is cheaper than a cabin, but more comfortable than the seating in the public area. Such reclining seats can also be mandatory as an alternative to cabins on some routes.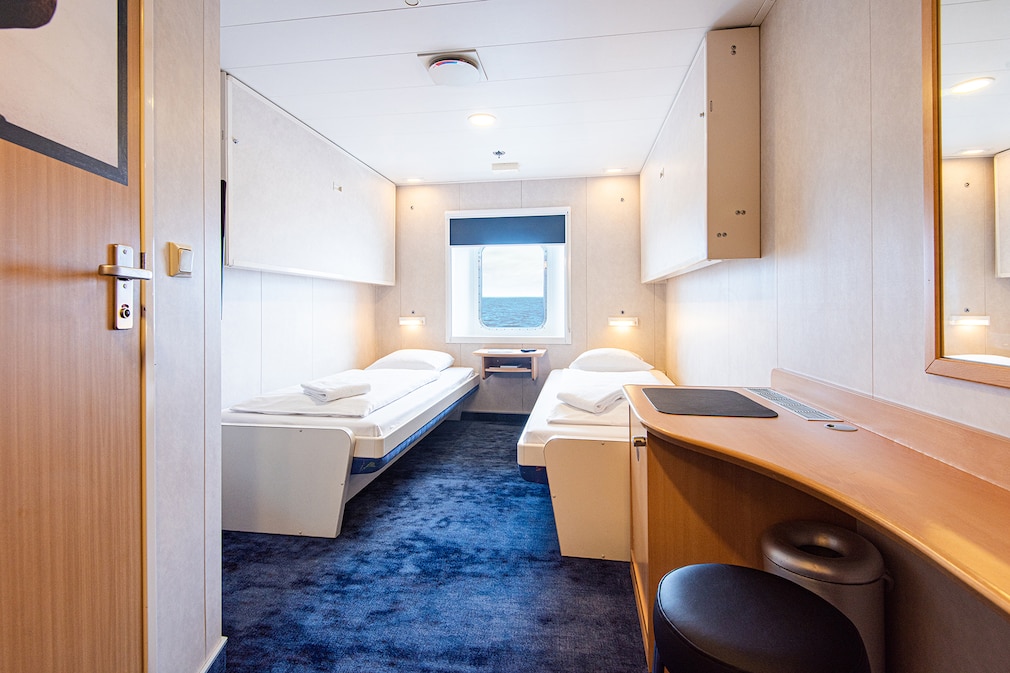 What rules apply on board before and during the journey?
Instructors regulate entry and parking on the ship's deck, and always follow them. Maneuvering or reverse disembarkation may also be necessary, depending on the pitch. The vehicles are almost always close together, so fold in the exterior mirrors. The gas system must always be turned off and the main tap turned off. The refrigerator is usually also disconnected from the 230 volt network (caution, perishable!).
For safety reasons, the parking deck and mobile home may no longer be visited during the journey (except for camping on board, see right). You should therefore prepare a bag with the necessary carry-on luggage in advance and find out about the currently applicable corona regulations. For dogs and other pets traveling with you, regulations from walking on a leash to transport boxes apply, depending on the shipping company.
Who is liable in the event of damage?
Where space is tight, parking bumps or other damage can happen. Check your insurance cover before you travel. Damage caused by shunting is usually covered by fully comprehensive insurance, not that of the ferry company. If the hull also includes the sea risk, in most cases the insurer will also pay for damage caused by collision, stranding, sinking of the ferry and the mobile home falling overboard. A special case is the so-called general average, in which the captain sacrifices vehicles to prevent the ship from sinking. Then all passengers would share in the average costs. Many mobile home insurance policies do not automatically include this case.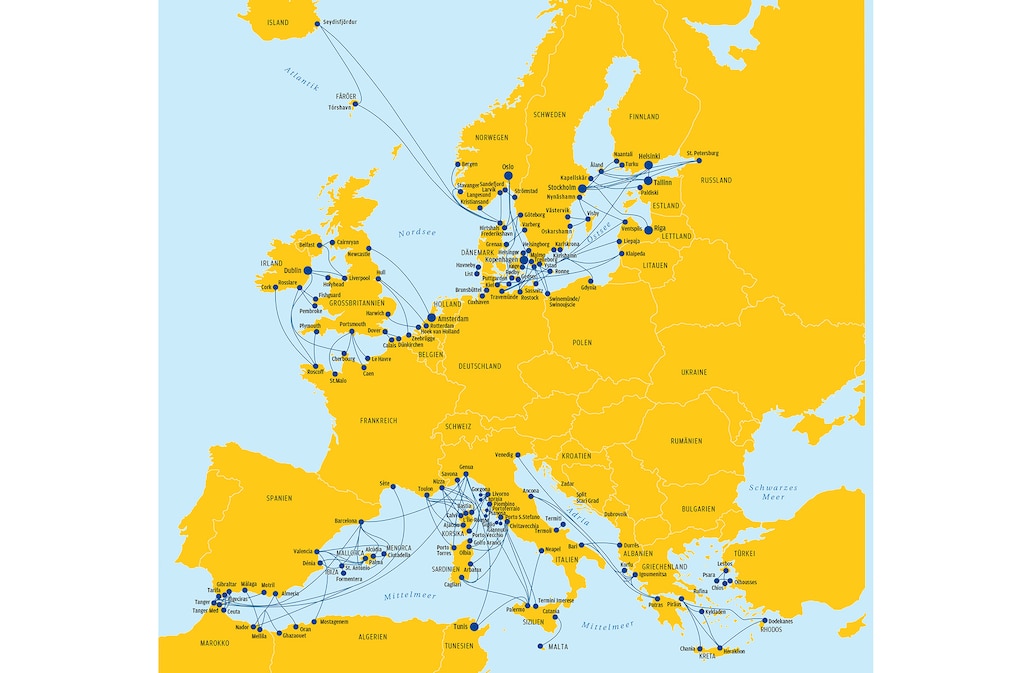 How is camping on board?
Some ferries offer camping on board – that is, staying in a camper van throughout the crossing. The Greek shipping companies Anek Lines and Superfast Ferries have the Italy-Greece route in their program from April to October. However, the Italian ferry line Moby Lines is suspending its 2022 service to/from Sardinia.
For example, you sleep in the vehicle, you can shower and eat as you like on the ferry. Because gas operation is not permitted in this case either. The price corresponds to one deck passage per passenger plus vehicle and is cheaper than a sleeping cabin. As the number of parking spaces is limited, you should book early. But beware, depending on the pitch, it can be narrow and stuffy below deck, and the noise of the ship's engines can also be annoying.
FERRY TRIPS WITH DOGS & CO

Kathrin Schiemann, head of the VFF office, gives tips
Corona has triggered a pet boom. Is there one on board now?
Numbers are not yet available. As demand for ferry travel in general increases, the number of travelers with pets should also increase. Many shipping companies have adapted the offer for animals on board to demand in recent years. For longer trips, however, the capacity of pet cabins is still quite limited.
What do pet owners have to consider before traveling?
You have to check the entry requirements for pets, as well as the rules of the shipping companies on board, such as muzzle or box requirements. Also, book ahead of time as there are pet cabins and recliners in the pet area
are booked up very quickly.
How do the shipping companies differ in their travel conditions?
With some shipping companies, it is possible to take your pet with you in the public areas (except for the restaurant, café/bar and on-board shop) and on deck. On other routes, booking a pet cabin or a seat in the pet area is mandatory. On some ferries, pets can stay in the mobile home during the crossing, with other shipping companies a box must be booked in the dog hotel.
Are there particularly animal-friendly routes?
This includes the passages to Scandinavia with the exception of Norway. When camping on board Italy after
Greece pets can spend the crossing together with the family in their own mobile home.