Cars
Workshop prices are rising! Expert reveals how you can still save
Workshop prices are rising. As in so many areas, the causes here are inflation, the chip crisis and the Ukraine war. In addition, there are delivery bottlenecks for new cars and empty and overpriced used car markets. Therefore, used cars in Germany have never been as old as they are now. The motto: It's better to repair than sell. All the more annoying when the workshop costs increase. The repareo comparison portal will regularly show us how prices are developing, which repairs are particularly expensive and where savings can be made.
"Calm before the storm"
CAR PICTURE: To what extent is the price increase in the area of ​​repairs and maintenance already noticeable? Which services are affected more and which less?

Moritz Breiding (repair): We have seen the usual price increases in mechanical services of around 3 to 4 percent per year. However, the perceived perception in the workshops is more like the "calm before the storm". Everyone knows that the costs for oil, spare parts and personnel are increasing significantly. So far, however, these effects have hardly been passed on to customers on our platform repareo.de.

In the HU/AU area, the fixed prices for cars have developed as follows on repareo on average: • 2018: 104 euros • 2019: 109 euros • 2020: 117 euros • 2021: 123 euros • 2022: 130 euros
"We recommend a preliminary price comparison before every workshop visit"
CAR PICTURE: What do you recommend customers to do, compare prices regularly or prefer to wait longer for expensive repairs?

Moritz Breiding: Necessary repairs to the car should generally not be postponed at first. We recommend a preliminary price comparison before each workshop visit. Many repareo also use our manufacturer-based calculations to find out what will be done at the next inspection or how much oil the car needs, for example. Here we indicate the necessary work and required parts with our online cost estimate. This means that if the timing belt change is also due during an inspection, we will also indicate this. When calculating the oil change, our system also shows the oil quantity specified by the manufacturer. This creates transparency even before the workshop visit.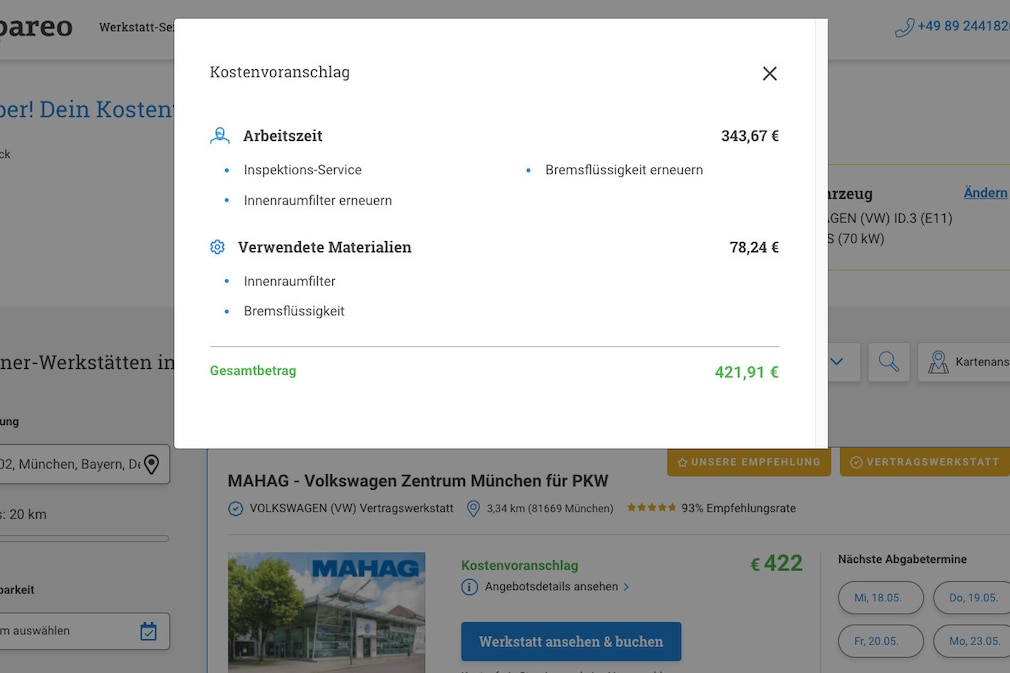 Benefit from promotions: A reduced hourly rate beckons when you book online
The online comparison is also exciting insofar as the workshops very often offer promotions. This means that a reduced hourly rate beckons when you book online. Other larger workshops, for example, run brake change weeks in which branded brakes are installed at reduced rates.
In the area of ​​​​HU / AU, free preliminary checks are offered by the workshops, which means that you can save re-examination fees if you fail the test.
Online workshop booking saves time
Overall, however, the price is very often not that decisive. Early appointments are crucial for many. In the area of ​​additional services at workshops, services such as pick-up and delivery are increasingly being used. We are experiencing stronger demand here, especially in larger cities.
For many, the time saved waiting or driving back and forth is a reason to book a workshop. The ratings and profile presentation of the workshop with photos etc. are also being looked at more closely. Trust plays a very important role.
Finding a workshop in a larger area can save a lot of money
CAR PICTURE: Should I also accept longer distances for good prices, sometimes drive to the workshop in the next town, do you see greater price differences?

Moritz Breiding: There is enormous potential for savings for those who are price sensitive. Berlin is the best example. If you are looking for an inspection with a toothed belt change for your VW Golf 7 Variant 2.0 GTD with a 184 hp engine, our calculated cost estimates for identical work range from 535 euros to 762 euros.
So we're talking about a range of 227 euros here. (Note: these prices only apply to online appointments). The cheapest workshop is just outside here.
Partly better conditions for online booking
CAR PICTURE: Inexpensive is not always good, can customers generally expect good service at a particularly good price via repareo?

Moritz Breiding: We have a strict catalog of requirements for our workshops. This is how quality is guaranteed: When booking via repareo, only parts in original or OEM quality are used. No matter how high the price of the calculated cost estimate is.
We see ourselves as the master workshop for our customers! We are at his side all the time and are available for him! We want to offer the best service together with the workshop.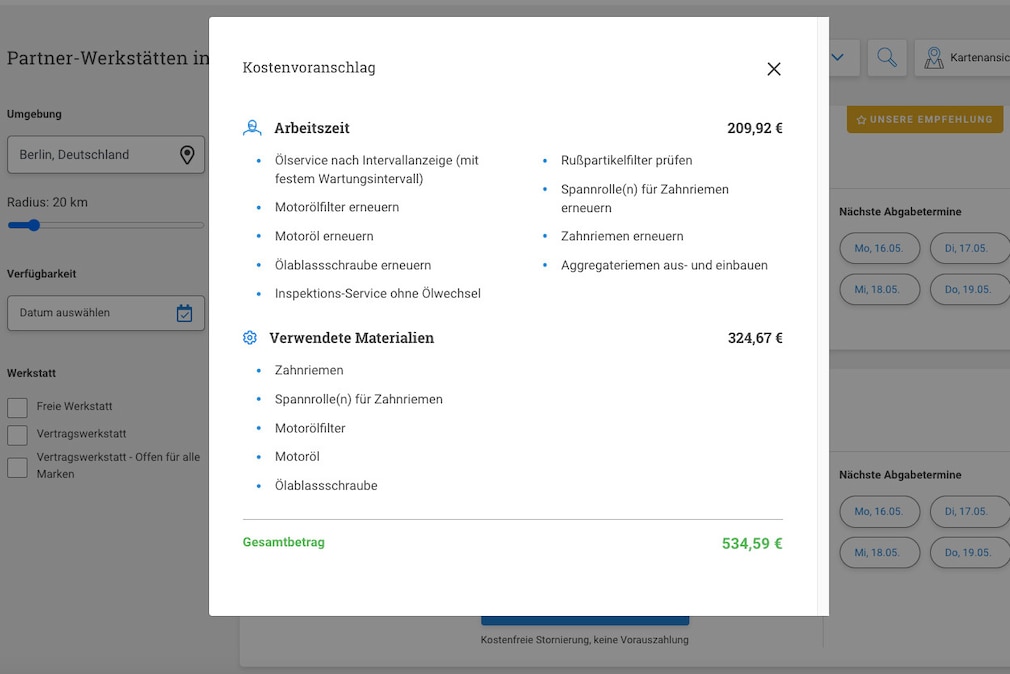 When booking online in some workshops, our customers even get better conditions than when booking in the classic way over the phone and the like. Many people are not aware of why this is the case. In this way, we relieve the companies of a lot of educational work, already carry out the offer calculation, avoid long telephone calls and deliver a lean process. Repareo has developed a unique technology that recognizes available appointments in the workshops. In this way, the user knows which workshop has time for him and the workshop receives requests for free platforms.
Comparison of maintenance costs

We also see ourselves as a marketing partner for companies – especially when it comes to the online implementation of coordinated campaigns. All of these advantages and efficiency savings enable many workshops to offer discounted conditions via repareo.
Electric cars cheaper in the workshop due to the elimination of wearing parts
CAR PICTURE: With a view to repair costs, is switching to electric cars a worthwhile alternative because maintenance costs are lower here?

Moritz Breiding: Electric cars are of course an exciting new field. Here we compared the maintenance cost estimates for a Golf 8 1.0 TSI with 90 hp (first registration 2/20) with a VW ID.3 1st with 95 hp. The ID.3 is actually about 25 percent cheaper here. The biggest difference here is of course the elimination of wearing parts such as filters, spark plugs and oil.
Comparison of maintenance costs