Cars
World Rally Championship Spain: Second match point for Ogier
After the last two gravel events, the world championship is switching back to asphalt for the remaining two races in Catalonia and Monza / Italy. The Rally Spain will be held completely on solid ground for the first time this coming weekend.
With a length of only 280 kilometers, the rally around the seaside resort of Salou is comparatively short. In the mountains south of Barcelona, ​​winding, mostly very smooth roads await the participants. Because either guard rails or rocks lurk at the edge of the route almost everywhere, the usual curve cutting is rarely possible. "Instead, you need a clean driving style, almost like a circuit driver," describes championship leader Sébastien Ogier.
The current Toyota works driver has already won the Rally Spain three times, in 2013, 2014 and 2016 for Volkswagen. With another win, the 37-year-old Frenchman would secure his eighth world title ahead of schedule. "The asphalt special stages in Spain are a lot of fun. Even better: By eliminating the gravel stage, this time I don't have to play the street sweeper for my colleagues on Friday, "explains Ogier, who as the championship leader always has to start first.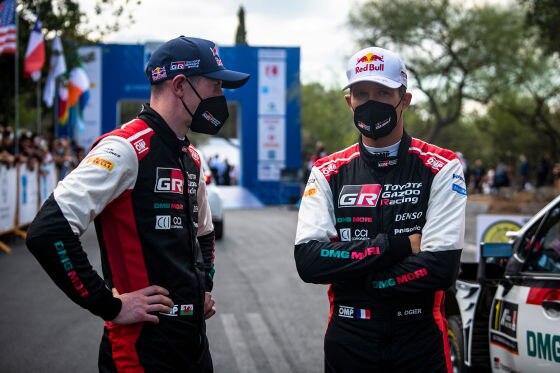 The only remaining competitor for Ogier in the fight for the title is Elfyn Evans, who also drives a Toyota Yaris WRC (1.6-liter turbo engine, around 380 hp, all-wheel drive). The two teammates are separated by 24 points. "My chance is slim, but I want to take it," Evans looks ahead. The 32-year-old from Wales surprised two weeks ago by winning the Rally Finland and thus fended off Ogier's first match point.
For Thierry Neuville, third in the table, the train to the driver's title has already left. As the winner of the last Rally Spain in the 2019 season, the Belgian is still one of the favorites. Especially since the Hyundai driver would at least keep the fight for the title in the manufacturers' championship, which is more important for the teams, open. Here Toyota leads Hyundai.
In the "second league" of Rally2 vehicles (1.6-liter turbo engine, around 290 hp, all-wheel drive), two German teams face the international competition. Armin Kremer, three-time German champion and European rally champion in 2001, will be at the start in the Citroën C3 with daughter Ella as co-driver. Fabian Kreim, also three times national champion, starts with co-driver Frank Christian in the VW Polo.
It starts on Friday (October 15th) at 8:00 a.m. The finish line is after 17 special stages on Sunday at 1:34 p.m. The homepage of the World Rally Championship (www.wrc.com) streams all special stages live on the internet, the service is chargeable. Servus TV (www.servustv.com/sport) will broadcast two WP live on the Internet on Saturday and Sunday, including the final Power Stage.