Cars
WTCR: Touring car legend Tarquini is retiring
The touring car world cup is entering the home straight. Yann Ehrlacher is about to win the second title in a row with the Chinese manufacturer Lynk & Co. The German Luca Engstler is in 14th place overall before the final weekend (Sunday, from 9.30 a.m. on Eurosport 2).
But these are all secondary theaters of war. The show this weekend will belong to someone completely different: Gabriele Tarquini. It will be the last race for the Italian – at least as a full-time driver. He quits at the age of 59.
"I'm really sad. I never thought that this moment would come one day. But everything in life has a beginning and an end. I'm old enough to know that, "explains Tarquini when he said goodbye.
World champion at the age of 56
The man from Abruzzo was competitive well into old age. With his 350 hp Hyundai Elantra N TCR, he is currently only twelfth overall. But in Barcelona he won another race. In 2018 he was still WTCR champion in one of the best-filled touring car fields in the world. And that at the age of 56.
2021 is the year that great careers come to an end. Kimi Raikkonen stops in Formula 1. Valentino Rossi in MotoGP. And Gabriele Tarquini in the WTCR.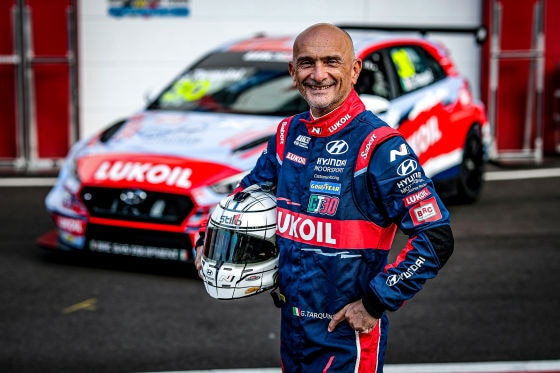 There is no second career like Tarquini's. From 1987 to 1995 he traveled to 78 Formula 1 races, but only competed in 38 – with sixth place at the 1989 Mexico GP in the AGS-Ford as the best result. He missed qualifying 40 times, more often than any other driver in history. He even failed 25 times in the pre-qualification on Friday. Tarquini is still proud of his F1 career, but also says: "Those were the bitterest moments of my career. Our paddock passes were even taken away and we were locked out from Saturday. "
Sad Formula 1 record
Tarquini wasn't a bad driver, but his cars were bad. He drove for teams that today only die-hard history fans know – Osella, Coloni, First, AGS and Fondmental. He only contested one Grand Prix for the legendary Tyrrell team, his last.
It was only when Tarquini entered the touring car scene that he became successful. With Alfa Romeo he won the British touring car title in 1994 and the European title in 2003. In 2009 he was touring car world champion with Seat. At that time he was already 47 years old.
But twelve more years followed. In these he developed three touring cars for Hyundai for the world's best.
Sprint instead of long distance
Tarquini never wanted to go to the long haul, which is where most drivers end their careers. He only competed once at the 24 Hours of Le Mans – in 1985 in a Brun-Porsche. "I'm no longer the fastest in qualifying and of course I could have an easier life on the long haul. But I need the thrill of the tough wheel-to-wheel duel and that only exists in touring car racing, "said Tarquini.
So, 46 ​​years after his first kart race, Tarquini stopped. It will be the story of the weekend. No matter who becomes a master.