Tech
YouTube also comes with its own version of TikTok: YouTube Shorts
TikTok is the app of the moment and the large social media companies are aware of this. Recently, Instagram came up with Instagram Reels, a function that is very similar to TikTok. And now YouTube also comes with its own platform to make short videos.
YouTube comes with a new feature. Following on from TikTok and Facebook with Instagram Reels, the video platform will also develop an option for short smartphone videos.
YouTube Shorts
"Shorts is a new experience for short videos from creators and artists who want to make short, catchy movies with nothing but their mobile phone". So it will be a new experience for YouTube users, but of course it does not sound completely new, because the concept "short, catchy videos, made with your smartphone" is exactly what TikTok does.
YouTube announced the new feature in an official blog post, in which the website emphasizes that it has always been a place for entertainment. In addition, old dance trends are cited, such as Evolution of Dance and the recent Jerusalema Challenge. YouTube also refers to the short and replayable videos, of which videos as Charlie Bit My Finger and Go! Bwaaah! are well-known examples. In that way, it tries to justify introducing a feature that is obviously based on TikTok.
TikTok copy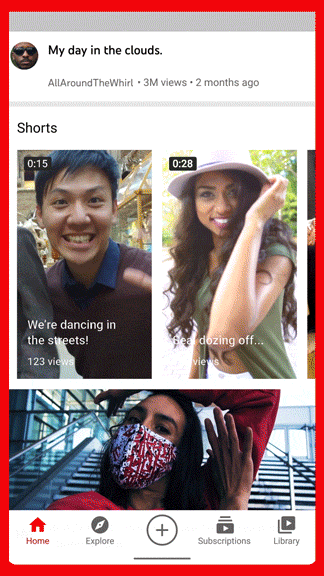 Users in India can already use the new feature. In addition, YouTube Shorts will be tested so that it can eventually be rolled out all over the world. For now, YouTube Shorts allows you to shoot videos of up to 15 seconds, just like it was originally on TikTok.
Just like on TikTok, you will be able to easily merge different movies, add music from a large library and play at the speed and timing of your short videos. You will also be able to easily view and discover other people's videos. So that probably will be on some sort of For You page to be.