Cars
Ford F-150 Lightning: This is how the electric pick-up drives
This Ford F-150 is likely to shake up the American car market: With the Lightning, the best-selling vehicle in the USA for more than 40 years will be launched in June 2022 as an electric version for the first time. And the Americans also seem to be enthusiastic: Ford already has 200,000 pre-orders in its order books – with a production capacity of 150,000 units per year.
The first purely electrically powered full-size pick-up on the market can hardly be distinguished visually from its conventionally powered brothers: Something like the 5.91 meter long colossus can be found on almost every street corner in Texas, half of all vehicles here have an open one truck bed. And his
perfomance
you can't tell by looking at the Lightning either: as a Limited, it sends a whopping 580
hp
and 1050 Nm in the
all wheel drive
. Assuming you have a delicate foot on the accelerator pedal, its 131 kWh battery should have a range of 480 kilometers.
Driving performance at sports car level

We get in and step on it: despite its unladen weight of almost three tons, the F-150 Lightning pushes like a mad bull, from a standing start it accelerates to 100 km/h in 4.5 seconds. When it quickly reaches 165 km/h it's over. The most relaxed is the electric cowboy with his two Engines in comfort mode. Especially if you switch to One Pedal mode via the powerful central screen.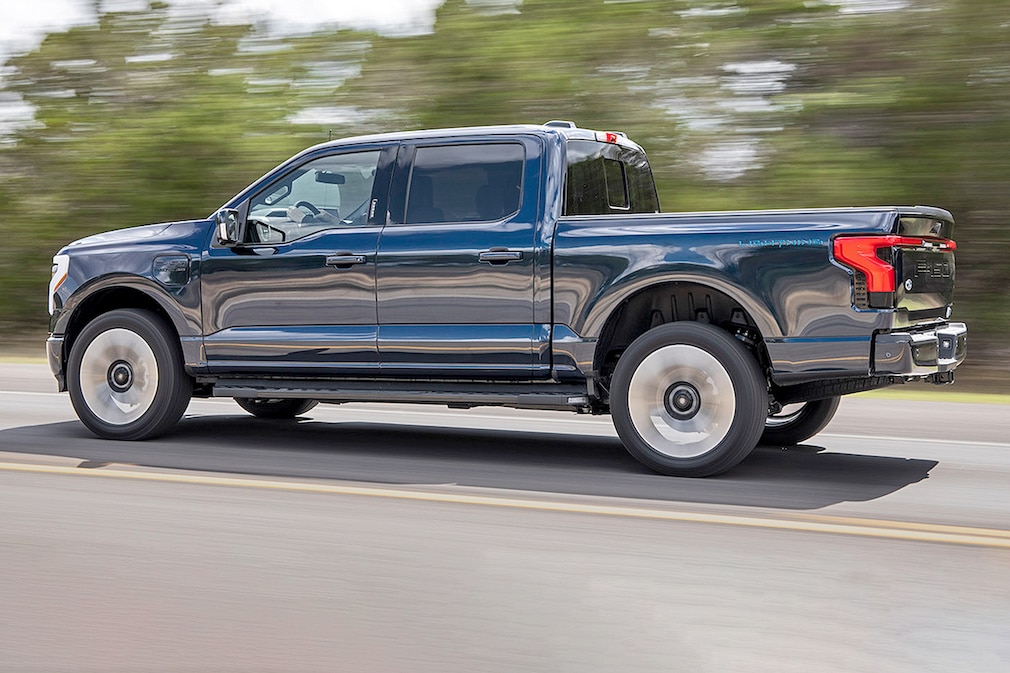 The 150's suspension set-up is more comfortable than we expected. The tendency to roll when cornering should be a little less, while the feedback from the steering probably only leaves something to be desired for demanding customers. From any speed, the boost is so powerful when needed that you forget what kind of turbulence you are piloting through the area.
Thanks 3.70 m wheelbase, the space available is also impressive, and the equipment is lavish, especially in the noble Limited version. It is operated using voice commands or the powerful 15.5-inch portrait display in the middle of the dashboard.
Ford relies on 400-volt technology

Although the F-150 Lightning only has 400 volt technology and can be charged with a maximum of 150 kW, the heavy battery in the vehicle floor is fully charged again in just 40 minutes – at a quick charging station, of course. According to Ford, however, most customers charge in their garage at home or in the supermarket car park from time to time. "Especially as a pick-up, an electric car shouldn't offer any restrictions – not even in terms of payload or range. Otherwise, customers won't switch," says chief developer Linda Zhang.

And of course this also includes fabric customers. Craftsmen on the road can connect electrical devices to up to eleven sockets on the loading area and the 400-litre loading space under the front flap. And if public power fails again as a result of a hurricane or cold spell, an F-150 Lightning can power a typical household for three to ten days. Another argument that should not be underestimated in rural areas.
The price list starts at just under $40,000

Just like the price, by the way: The so-called workhorse of the F-150 Lightning Pro starts at just under 40,000 US dollars – with a 98 kWh battery, 380 kilometers Range452 hp, all wheel drive and solid comfort and safety features. The Limited we drive will cost at least $90,000.