Cars
Buy a used VW Phaeton at a bargain price
The VW Phaeton is getting cheaper and cheaper! On the used car market, there are now rocked-down examples of the luxury sedan for less than 3000 euros. Although they can usually only be used as parts carriers, functional Phaetons with TÜV are also available for less than 10,000 euros. A VW Phaeton with the popular 3.0 TDI V6 is currently being offered on eBay at a low price.
In retrospect, the VW Phaeton was a huge flop. When it was launched in 2002, it was supposed to compete against the BMW 7 Series, Mercedes S-Class and Audi A8. Despite many technical refinements, great workmanship and extensive equipment, the top model was never really able to assert itself.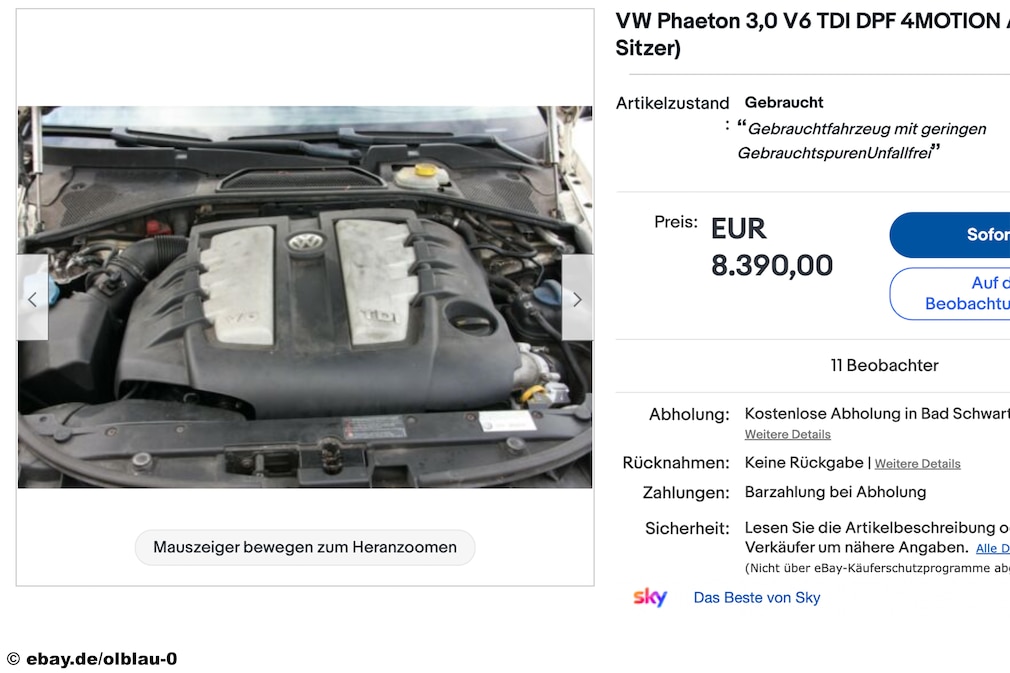 VW had a lot of patience with the flagship, kept it in the program for 15 years and treated it to four major facelifts (GP). In 2016, after almost 85,000 units had been built, it was finally over.
Former new price: around 80,000 euros

The main problem wasn't the finish, the design or the range of engines – it was the combination of a lack of prestige and a high price. Or to put it another way: too few customers were willing to spend 80,000 euros or more for a Volkswagen. The result: on the used car market, prices for luxury sedans have continued to fall in recent years. (Click here for the AUTO BILD used car test of the VW Phaeton!)

2008 Phaeton with 240 hp diesel on eBay
A VW Phaeton 3.0 TDI V6 is currently being offered cheaply on eBay. The white sedan was first registered in June 2008, which means that this is a GP1 model with LED daytime running lights, DVD navigation system and the three-liter diesel boosted to 240 hp.
In the past 14 years, the Phaeton has driven an impressive 214,463 kilometers, but it makes a well-kept impression on the pictures. According to the seller, the car is accident-free and second-hand. In addition, it should only show minor signs of wear. Less good: The advertisement does not mention whether the Phaeton still has TÜV – and any defects or problems are not discussed either.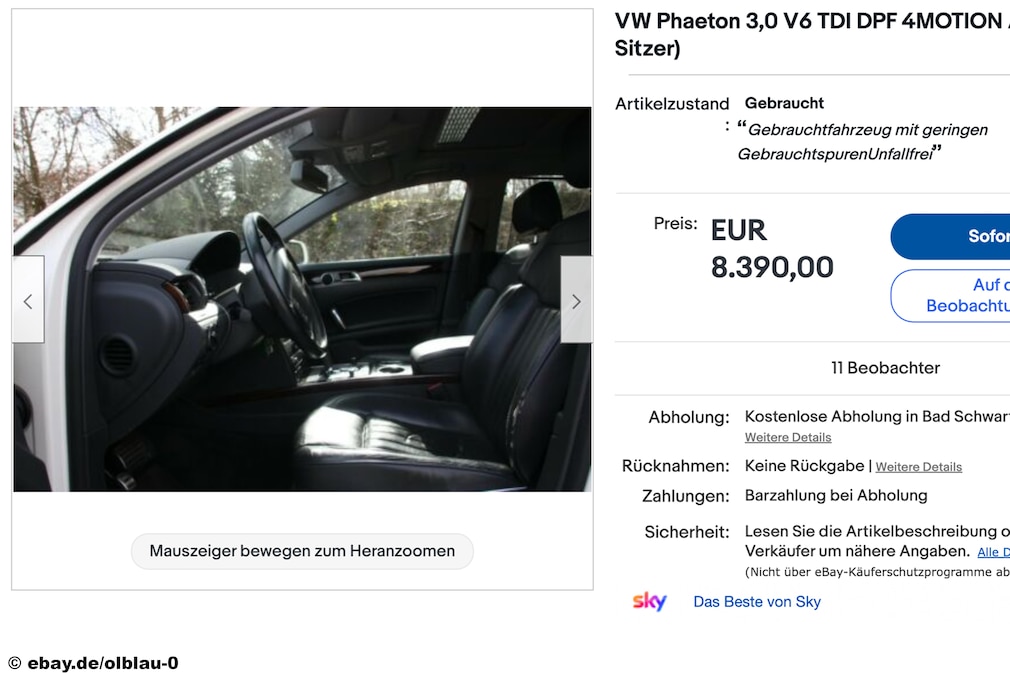 Since the Phaeton is equipped with a great deal of technology, there are hardly any used examples nowadays in which all the technical gimmicks work perfectly. And once the worm gets in, it can get expensive.
The equipment, typical Phaeton, is comprehensive: In addition to a black full leather interior, electrically adjustable seats, GPSair suspension, sunroof and more on board.
Now the luxury limo should cost 8390 euros

All this luxury is available on eBay for 8390 euros. A fair price for a second-hand Phaeton – as long as there is no maintenance backlog. Although early Phaeton models are already available for less than half, these cars can only be used for export or rather as parts carriers. So better plan a little more money when purchasing and buy a well-kept copy.