Cars
Kreidler Florett RMC 4-speed: This Florett RMC looks like new
Whenever the name Kreidler Florett is mentioned, two-wheeler fans' eyes light up – at least those with one or two gray hairs. With the old driving license class 4, 50s could be driven in the past, which were not limited in their top speed. The crowning glory of this category was the Hercules K 50, Zündapp KS 50 and the Kreidler Florett RS with up to 6.8 hp.
Fans with a few euros to play with have a great opportunity on eBay right now. A Kreidler Florett RMC is offered for sale there. It is the little sister of the Florett RS, here in bright green. The price tag is 4995 euros.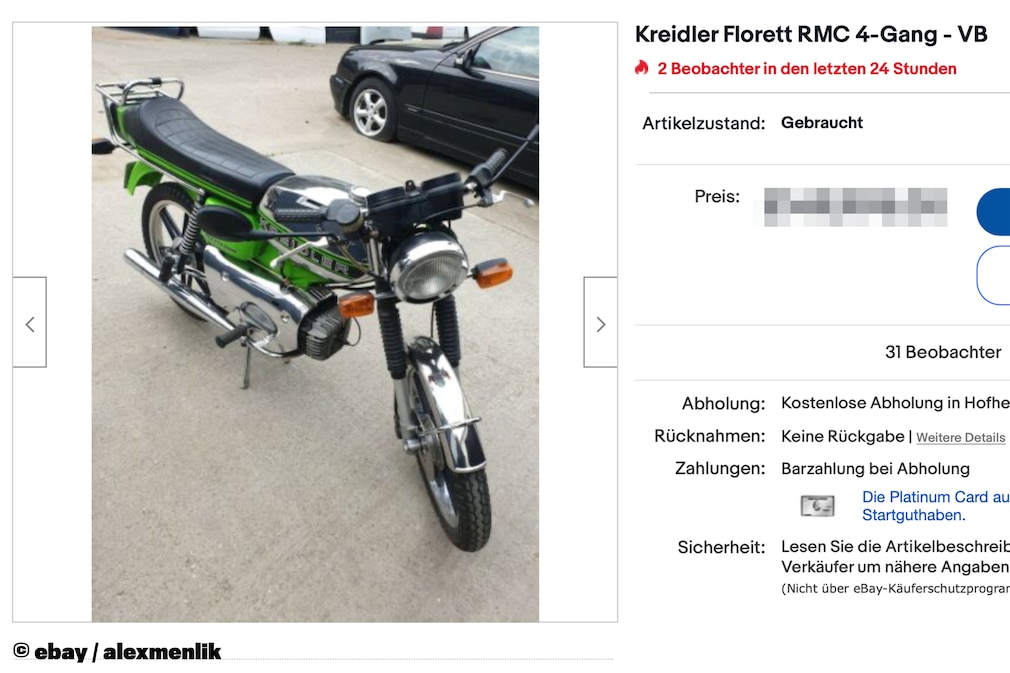 The offered foil looks exceptionally good
The first thing you notice in the ad are the pictures. They show a Florett RMC that appears to be practically new. According to the sparse information, a comprehensive restoration that took place ten years ago is behind it.
The only current blemish seems to be the broken plastic cover of the fork leg. The part should be replaced by the new owner.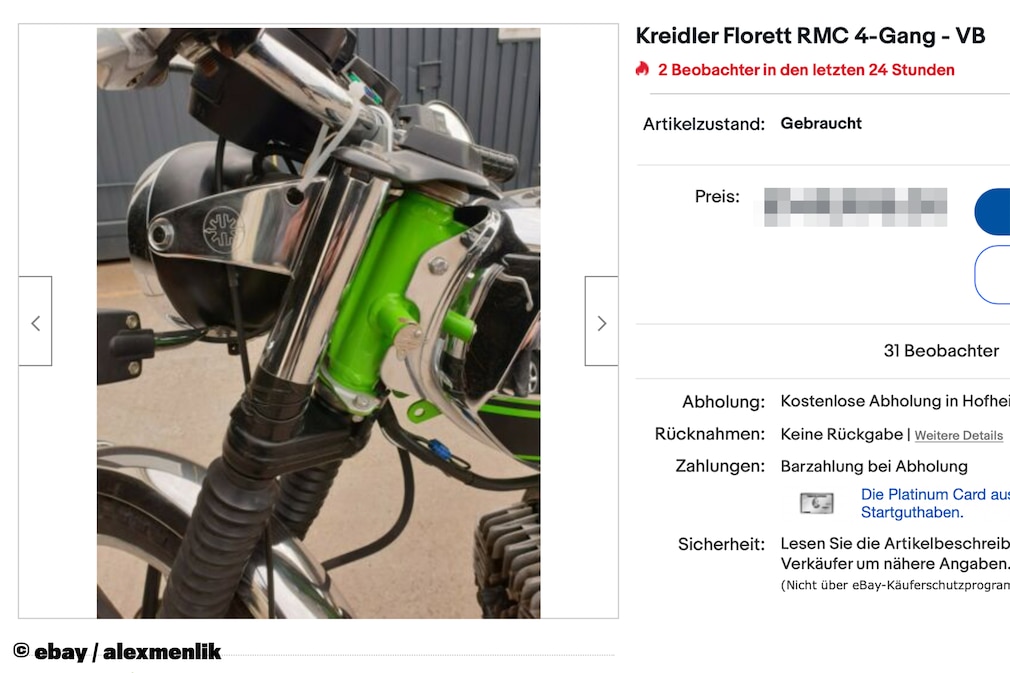 According to the advertisement, the Kreidler Florett RMC has 16,000 kilometers on its speedometer. It is not clear whether this mileage refers to the time since the restoration or to the entire history of the vehicle since the late 1970s.
But the seller should be able to answer this question. The same applies to the care that was given to the vehicle, which was called Mokick at the time.
The single-cylinder in the Florett RMC has a displacement of 49 cubic centimeters and delivers three horsepower. It is started with the foot using the kick starter, the four-speed gearbox is manual.

This is what you should know about the Kreidler before you buy it

Back then, Kreidler was an expression of a youthful attitude towards life. For many, the most popular means of transport out of the bourgeois existence of their parents, which was perceived as stuffy, was a Kreidler with a screaming two-stroke engine.
That the boxes were pretty fast legally compared to today's 50's added the rest to the allure. And eventually led to the demise of the vehicle class. Because the ferocity of the drivers led to many accidents and an explosion in insurance premiums.
Important: every motor vehicle must be checked carefully

In addition, it is important to ask as much as possible about the restoration and the previous life of the machine: Who did the restoration? How well did the restoration go? How many previous owners have maintained the machine and how well?
The wheel suspension and all bushings should be checked carefully. In addition, there are the oil seals on the fork and ideally also the oil seals on the engine. According to various forum entries, hairline cracks on the fork tube and frame (even if they are extremely unlikely here) point to possible accidents in the past of the machine.